From 16th to 30th January (with a pre-opening of the Festivity, Christmas decorations, toy sector and gift the 25th) Milan will host HOMI Milan 2017, the international home and people fair, dedicated to professional operators and furniture and design experts. Let's have a look to what you need to know about that!
HOMI: a business opportunity in lifestyle sector!
HOMI Milan 2017 is a big project that represents a new idea of exhibition that focuses on people, their spaces and their lifestyles. It is a dynamic itinerary aimed to defining the "tomorrow's shop", whose purpose is to increase business opportunities taking visitors through 10 "satellite areas", where sellers and buyers meet.
The mission of this exhibition itself is included in the name HOMI:
O suggests a symbolic circle which encloses a person, his lifestyle and habits.
MI is a homage to the city of Milan, at the forefront in business and modern lifestyles field.
HOMI: 10-dimensions home!
HOMI Milan 2017 offers the possibility to immerse in 10 different visions of living, with the proposal of 10 "satellites", areas which will host all HOMI sectors, revisited according to new exhibition concepts bound to people and new lifestyles world. Here are the 10 areas and sectors:
Living Habits: itchen & dining, furnishing and complements, lighting design.
Home Wellness: bathroom, wellness, sports and relax.
Fragrances & Personal Care: home & personal fragrance.
Fashion & Jewels: accessories, jewelry and clothing.
Gift & Events: gifts, events, merchandising and licensing.
Garden & Outdoor: systems, furnishings and accessories for the outdoor setting, gardening.
Kid Style: furnishings and complements, fashion and accessories under 14.
Home Textiles: textiles and homeware.
Hobby & Work: hobbies, travel, music and work.
Concept Lab: concept design companies, editors and contract.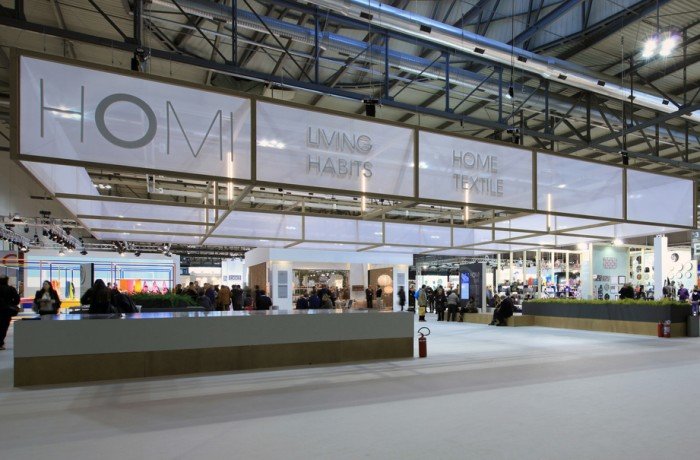 HOMI: all the practical information!
HOMI Milan 2017 will take place from Friday 27th to Monday 30th January 2017, from 9.30 am to 6.30 pm (on Monday until 4.30pm) in the pavilions of the Fiera di Milano, at number 28 of the Strada Statale del Sempione in Rho..
Tickets for HOMI can be booked or bought directly in the dedicated area on its website, to avoid queues.
By car
The exhibition centre is easily reachable both from Milan and from any other Italian and international city. For all those who want to travel to HOMI Milano by car, near the fair there are many parking places.
By underground
For those who want to get to HOMI by underground, the most convenient way is parking the car in one of the 6 parking places at the entrance of Milan corresponding to the underground stations, from where you can take the Red Line (Linea Rossa) and get off at terminus Rho-FieraMilano:
Cascina Gobba
San Donato
Famagosta
Bisceglie
Lampugnano
Molino Dorino
Hotel de la Ville: comfort and style, perfect HOMI-style!
Hotel de la Ville is a 4-star luxury hotel with a unique location: it lies in front of Monza Royal Palace, ancient Savoy residence, and of its wonderful park, and at walking distance to the pedestrian city centre.
Located in a strategic area, Hotel de la Ville is just 16 kilometres far from Milan central station and 22 kilometres from Rho exhibition centre. Moreover, Sesto San Giovanni Underground Station (red line) lies just 7 kilometres far from the hotel and it is provided with a wide park where leaving the car.
With their flawless style, the owners of this 4-star luxury hotel, with the adjacent fascinating dépendance "La Villa", transformed each room in a tribute to the Royal Palace, recalling its elegance to let the guest live in a luxury and ancient atmosphere.
The style is accompanied by the most modern comforts, dedicated to business and international guests, who can take advantage of:
Free high-speed wireless internet access.
Financial and international newspapers.
Facsimile, copying and printing services.
Currency exchange.
Multi-lingual professional staff.
The hotel has a multi-awarded restaurant, the Derby Grill, definitely the best in Monza, and a really unique American Bar, where you can relax in an old-New York atmosphere.
Among the features, free convenient park and covered garage (according to availability).
If you're planning to go to HOMI Milan 2017, you are a design lovers looking for elegance and "bien vivre"… booking your stay at Hotel de la Ville is a "must do"!