Ottaviano Siliberti
Reservation Manager
"Every guest has his own personality. And every room of Hotel de la Ville has a personality to satisfy our guests demands"
He graduated from the Technical Institute of Hotel Services Carlo Porta in Milan, Ottaviano Siliberti achieved his career covering mainly roles at front desk, such as Night Manager and Reception Manager in different 5 and 4 star hotels in Milan area. Since 2007 deals with the role of Reservation Manager at the Hotel de la Ville in Monza, which allows him to showcase his organizational skills. Ottaviano will help you to identify the most suitable offer for your holiday in Milan surroundings.
Riccardo Napoleone
Reception Manager
"Every morning I wear my cheerful smile for Hotel de la Ville's guests. To make them feel at home on their leisure or business trip in Monza"
He first met with Hotel de la Ville Monza when I was still attending the Olivetti School for Hotels in Monza, thanks to an internship in the food and beverage department. Since 2003 Riccardo Napoleone is definitely an integral part of the hotel, working in a variety of roles, from our restaurant Derby Grill to the sales department, the reservation office and then the front desk. After an experience at Claridge's in London, in 2008 he was appointed Reception Manager, with his sincere approach and gentle manner.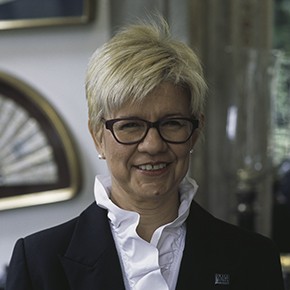 Orietta Riva
Sales Manager
"Presenting our hotel is like introducing an elegant, generous person with a thousand talents; this is the perfect location for a successful meeting"
After graduating from the Hotel School A. Vespucci in Milan, Orietta spent a couple of years between Germany and England giving a start to her hospitality career in 1987 in the Inter/Atahotels group, covering management roles in the front of house. She arrives at the Hotel de la Ville Monza in 2006 and since then Orietta puts her best effort to make every event and meeting unforgettable and flawless. Its customers recognize the advantage of being friendly, cheerful and practical.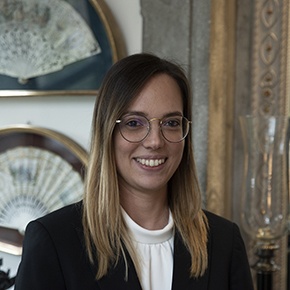 Elisa Radice
Banqueting and Events Coordinator
"Perceiving the happiness of a newly married couple or parents for the Baptism of their child is priceless. That's why I love to take care of every event in detail"
Graduated in Science of Tourism at Bicocca University of Milan, Elisa immediately started working as event organizer, with particular attention and specialization in the realization of wedding receptions at an ancient villa in Brianza. Despite her young age (she is in fact from 1988), Elisa is passionate about the trends of the moment, knowing how to intercept what are the desires and needs for each type of event. Customers recognize her innate empathy, discreet sweetness and reassuring professionalism.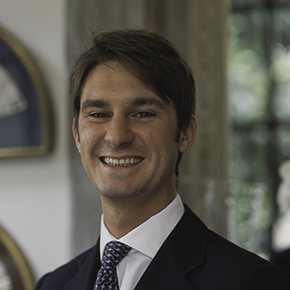 Francesco Nardi
Marketing Executive
Email
"Our hotel has a great family tradition and the energy to taken on even the biggest challenges for the future. Great partnerships are made this way"
With his cousin Bartolomeo, he is the fourth generation of Nardi's involved in the management of Hotel de la Ville Monza. Francesco graduated from Glion Institute of Higher Education and Les Roches-Gruyère University of Applied Sciences, Switzerland, in 2014. During his studies, he worked at the Hilton Park Lane and the Brown's Hotel in London. He decided to return to Monza after graduation, taking on the scope new marketing strategies. Its main features? Determination, humility, freshness and a sincere smile.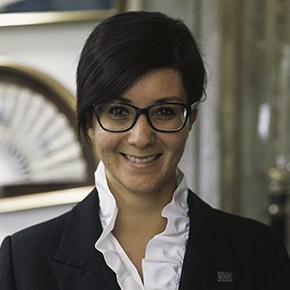 Silvia Leonardi
Communication and Social Marketing
"Hotel de la Ville is a precious jewel that can't remain secret. For this reason I do my best in order to let everyone to discover all its beauty and charme"
A degree in Foreign Languages and Communication and a master in Publishing Industry at Università Cattolica del Sacro Cuore in Milan led Silvia to start her career in a publishing agency in Monza. She arrived at Hotel de la Ville in 2013, where she's been holding the task of communication supervisor thanks to the experience gained over the past years. Exiquisite helpfulness and sincere empathy are her main features and qualities that make everyone appreciate her.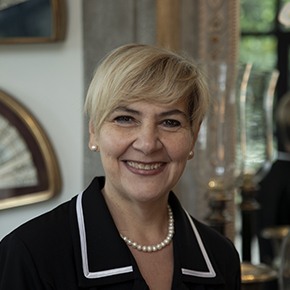 Dea Mussi
Housekeeper
"The freshness of the laundry, the splendour of the ancient fabrics, the prestige of the art collections. Every room in the Hotel de la Ville is a homage to luxury"
After a brief start in a pastry shop, Dea Mussi arrived at the Hotel de la Ville in Monza in 1988 as a chambermaid. She has been fortunate to work with Mrs. Luisella, wife of Bartolomeo Nardi, first owner of the hotel, who passed her on not only the old-fashioned grand hotel techniques but also a life passion. Her sweet smile and spontaneous personality soon lead her to become head of department, which still runs today with the same professionalism and enthusiasm.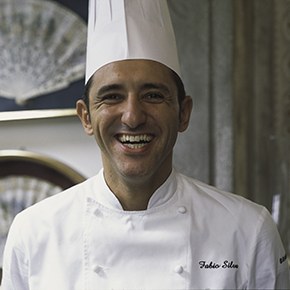 Fabio Silva
Executive Chef
"Every day, at the Derby Grill, I discover the amazing gourmet richness of Italian cuisine, and I enhance it by selecting the very best ingredients"
Fabio Silva has been the new Executive Chef at the Derby Grill and Hotel de la Ville since spring 2011. Born in Naples in 1978, he graduated from the "Istituto Alberghiero Cavalcanti" in Naples and began his career working in all sections of the kitchen, from the garde-manger to the first and main courses, and finally, pastry and confectionery. Regional character and respect for the territory, enthusiasm and a supreme sense of organization are the essence of a cuisine, which fascinated the most prestigious guides.
Roberto Brioschi
Restaurant Manager
"I have been welcoming guests to the Derby Grill for thirty years. And for thirty years I have had the pleasure of recommending the best in Italian food and wine"
Restaurant Manager, he's been overseeing the "life" of the Derby Grill for more tha 30 years. Roberto graduated in 1979 from the A. Vespucci Hotel and Catering School and started his career that same year in our hotel. He gained more experience in Italy, Switzerland, England and Germany; then in 1990 he returned to the Hotel de Ville in Monza. The trademark of his service? Affability, natural courtesy and maximum readiness to anticipate and satisfy the demands of the guests.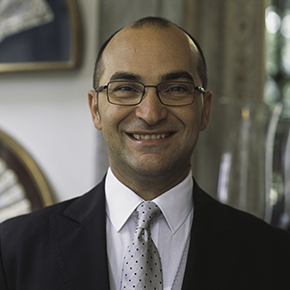 Antonio Renzulli
Maître d'Hotel
"When I welcome guests at the Derby Grill, my task is to make them feel comfortable and live an unforgettable experience"
Antonio Renzulli's style of service is impeccable. After graduating from hotel and catering school of Vieste, he gained excellent professional experience in Italy, Ireland, Austria and Switzerland working in famous luxury hotels. He arrived very young at the Hotel de Ville, where he first worked as Second Maître, and since 2006 he has filled the role of First Maître. Antonio possesses a strong personality and stands out for his spontaneous courtesy and discreet but constant attention.