Our 4-star hotel is located in front of the Royal Villa of Monza, just 16 km away from Milan's central station and 22 km from Rho Fiera. It offers businesses and companies a conference centre among the most elegant and best equipped in Brianza: a short distance away from the big city, but far away from its characteristic hustle and bustle.
Top services for our business clients.
Hotel de la Ville does not only rent rooms for conferences or work meetings, but offers a series of essential services to best organise any kind of meeting, from the smallest to the most important.
The hotel is fully covered by high-speed wireless internet service.
Customers will be provided with fax, photocopying and printing services.
All departments have multilingual staff.
The rental of the rooms includes:
Overhead projector
Flip chart
Speaker system
State-of-the-art screens and projectors
Advanced conference-call systems
Technical instruments for video recording and a hostess and interpreting service will be provided on request.
Before, during and after the event you will have specialised staff at your disposal and an assigned agent which will help you to best organise the event.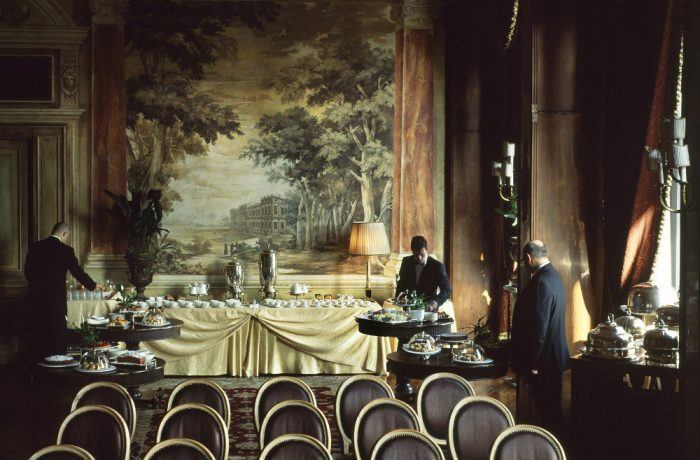 Technology and elegance just a few minutes from Milan.
The conference centre of Hotel de la Ville has 5 rooms, elegantly and sumptuously furnished, with an "ancient" beauty in combination with the most modern technology, all naturally illuminated and air-conditioned.
Sala Arazzi: perfect for workshops, embellished with antique tapestries, can host up to 150 guests.
Sala Affreschi: it takes its name from the walls decorated with magnificent frescoes, ideal for meetings and more exclusive gatherings. It has an adjacent room for aperitifs and coffee breaks and can accommodate up to 60 guests.
Sala Regina: one of the most popular rooms, ideal for small meetings or training courses, it can accommodate up to 15 participants.
Sala Corona: hosts up to 40 participants, ideal for conferences and presentations.
Sala Reale: this sumptuous room, decorated with noble portraits on the walls, is reserved for the most important events and can host up to 200 guests.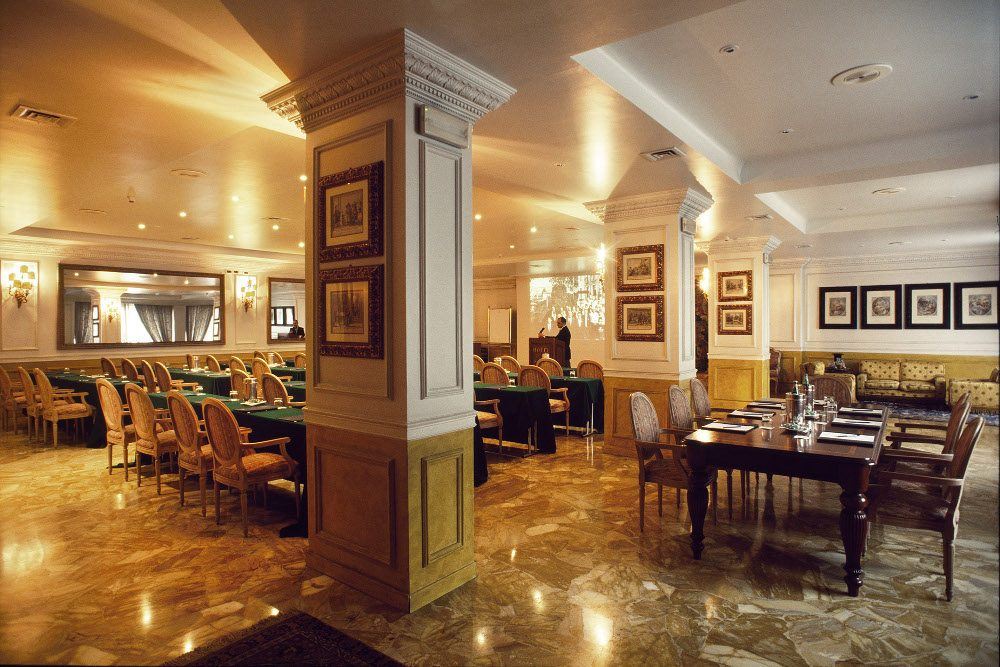 During your event we will organise coffee breaks, aperitifs, cocktail and dinner parties where your guests can try Fabio Silva's specialities, the chef of our award-winning restaurant, the Derby Grill.
You will also have 70 rooms and suites at your disposal, as well as an exclusive extra luxury annexe, La Villa.
If you wish, your meeting and team building activities can be made even more engaging by the extra activities that we can organise for you on request, including:
Driving a Ferrari at the Monza circuit.
Visits to the Royal Villa
Discovering the historic centre of Monza.
If you are looking for a conference centre near Milan, in a unique location where to hold your best meetings, do not hesitate in asking us for information and benefit from our exclusive offers for our business clients!