The renowned French chef and businessman, Alain Ducasse, chose Hotel de la Ville in Monza to relaunch his French brand Châteaux & Hôtels Collection. An expected success in a special location with a 4 hands dinner and prestigious guests.
Châteaux & Hôtels Collection: le charme, le vrai.
Founded in 1975, Châteaux & Hôtels Collection is a collection of charming hotels and haute cuisine restaurants. The brand gathers more or less 500 partners in 16 countries, above all in France and Italy, and it's being presided over by Alain Ducasse since 1999. Hotel de la Ville and its restaurant Derby Grill couldn't miss the opportunity to join this important project, being part of it since 2015.
As years went by, Châteaux & Hôtels Collection has collected more and more partners, betting on cuisine. The French brand supports a type of cuisine based on genuineness of products and what better choice than Italian restaurants when you talk about "good cuisine"?
The excellence of the good Italian cuisine.
The Derby Grill, restaurant inside Hotel de la Ville Monza, is proud to be part of this respected group lead by Alain Ducasse, whi defines himself as "a French chef in love with Italian cuisine, of its variety and of its extraordinary generosity". Among the 500 addressed that joined Châteaux & Hôtels Collection, 260 are "Tables de la Collection" and 9 of these are Italian.
Although each one with their own characteristics, there's a "trait d'union" that connects all Tables de la Collection: chefs' personality who know how to add value to their territory with fresh and season products, without forgetting traditions. These are the criteria that encourage Châteaux & Hôtels Collection to widen its net of "artisans of taste".
Alain Ducasse special guest in Monza.
For this reason Italy has been chosen for a special meeting where it has been described the gastronomic excellences of the restaurants chosen by Alain Ducasse. Hotel de la Ville Monza appeared to be the most exclusive location and Nardi family offered its extraordinary experience in welcoming guests for more than half a century.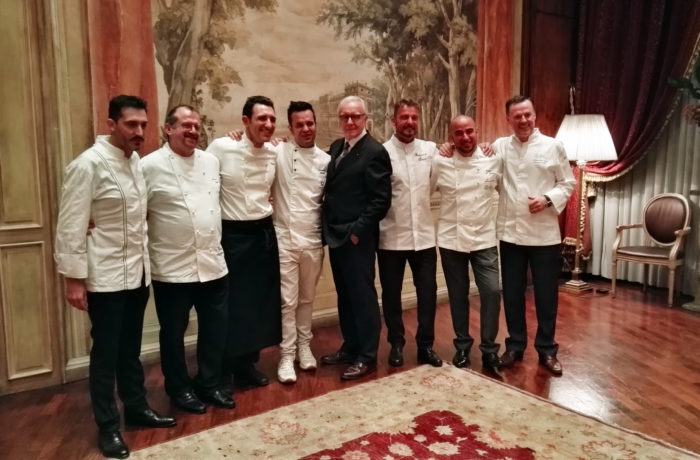 Thursday, October 6th 2016, with the Michelin-starred chef Massimo Spigaroli of Antica Corte Pallavicina, our chef Fabio Silva made his magic. Starting from a gourmet aperitif, that included some of the most appreciated products of the partners joining the event. And then with a memorable four hands gala dinner. A rare chance, the one of cooking for Alain Ducasse, who left very well impressed by the entire organization of the event!