If you're planning a short break in Brianza, the best choice for your stay is Hotel de la Ville, boutique hotel in Monza, just opposite to the wonderful Royal Palace and a few kilometres far from National Race Track.
Brianza's capital city hides many historic-architectural treasures, which will seduce also the most demanding tourists, thanks to its different offers. Your hotel in Monza lies in the most prestigious residential area of the city, 500 metres far from the pedestrian city centre and a short walk from the biggest walled park in Europe.
Savoy splendour on the doorstep
On the most famous tourist points of Brianza capital city is its Royal Palace, marvellous villa wanted by empress Maria Theresa of Austria for her son Ferdinand of Habsburg, governor of Austrian Lombardy, at the end of the 18th century. Works were appointed to Giuseppe Piermarini, architect of the great Teatro alla Scala in Milano, who built a gorgeous U-shaped neoclassical building, following partly Reggia di Caserta splendour, on which design Piermarini worked as Vanvitelli's disciple.
After a long and accurate renovation, Royal Palace reopened to the public in September 2014 just in front of Hotel de la Ville, the only luxury hotel in Monza facing this Italian architecture masterpiece. Surrounded by the widest walled park in Europe, the Palace has become a lively tourist point which includes:
beautiful royal apartments, renovated and decorated with period furniture
a big space for temporary exhibitions along the 2nd floor
Triennale Design Museum inside the Belvedere (3rd floor)
The Park, hidden treasures
Such an important villa such as Royal Palace must have a marvellous "garden". The wide park which surrounds it (700 hectares wide) is considered the biggest walled park in Europe and today it's open to everybody who wants to relax, train or visit an art exhibition. Inside, in addition to the rose garden (which hosts every year an important international contest), you can find an evocative little lake, a short walk from the Doric temple, and a series of farmsteads, some of them transformed in snack areas. But above all there are also smaller but equally fascinating villas, Villa Mirabello (which often hosts shows and temporary exhibitions) and Villa Mirabellino.
Real lovers know, though, that inside Monza park there are two sport temples: one is Golf Club Milano, which will host the 72nd Italian Golf Open in 2015; the other one is the National Racetrack, known above all for the Italian F1 Grand Prix. The most famous drivers also know that the best hotel in Monza is Hotel de la Ville: GP weeken is off-limits indeed, with a glamorous coming and going of accessible celebrities. During the year you can taste GP atmosphere in Hotel de la Ville elegant rooms, some of them dedicated to the biggest sportmen of all the ages.
Full of charme and considered the best hotel in Monza, Hotel de la Ville gives its guests the chance to discover the park that surrounds the Royal Palace by bicycles.
City centre and Zavattari's Chapel
About 500 metres divide Hotel de la Ville entrance to the pedestrian area of Monza's city centre. A nice walk takes you to the heart of it, because a weekend in Brianza doesn't only mean sport and culture, but also shopping. Carlo Alberto Street seems a sort of catwalk, you simply have to choose! The road leads to the unique Arengario, ancient town hall (13th century), to the lively Trento e Trieste Place, not just current town hall, but also Medieval Pratum magnum.
A few metres divide it from the magnificent Duomo di San Giovanni Battista, religious and historical heart of the city. Legend tells that the original building was built by Theodolinda, queen of Lombards, to whom an important chapel inside the church is dedicated. Known as Zavattari's Chapel, from the name of the artists who frescoed it in 15th century, it hosts the legendary Iron Crown of Lombardy, consisting of a circlet of gold fitted around a central iron band, which according to legend was beaten out of a nail of the True Cross. The crown was used in Charlemagne's coronation as King of the Lombards.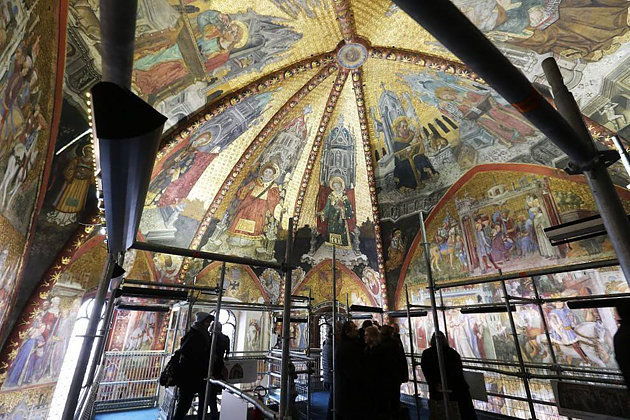 De la Ville, hotel in Monza for your weekend in Brianza
If you're looking fro a hotel in Monza to fill your weekend in Brianza with elegance, in a familiar ambience, the best choice is Hotel de la Ville. Luxury 4-star hotel, in the most enviable residential area of the city, Hotel de la Ville will make you feel like king and queen just a few steps away from the Savoy Palace. These are its main characteristics:
best restaurant in Monza, Derby Grill, led by the young chef Fabio Silva
marvellous terrace overlooking the Royal Palace
free little sauna and fitness area
free high-speed wireless internet access in the public areas
Hotel_ 022