Our wedding is one of the most important events of our lives and it deserves to be celebrated accordingly. Hotel de La Ville, the only 4 star hotel in Monza and famous throughout the city, is widely regarded as the perfect venue for elegant and sumptuous receptions which will always be remembered.
Fairy-tale weddings in a fairy-tale setting.
Our hotel is located in front of the Royal Palace of Monza (which it overlooks) and is inspired in the ancient glories of the residence of the Savoy, recreating an ancient, refined and sumptuous elegance which make it the perfect location for all important events in life, those to be remembered.
Deciding to celebrate your wedding in this little oasis in the heart of Monza means having access to a luxury hotel with beautiful suites, one of the most famous restaurants of Brianza (the Derby Grill), a truly unique an annexe and 4 magnificent banquet halls for all your needs:
Sala della Corona: of all our halls, this is the most intimate, elegant and cosy as an antique living room. It is lit by large windows and is the ideal location for receptions up to 40 guests. You will be transported back in time to an old Victorian house, one of a kind.
Sala Affreschi: it has an understated elegance and an annex room with a fireplace (perfect for aperitifs). It takes its name from the magnificent frescoes on the walls, and is ideal for up to 60 guests in a sophisticated environment, which will always be remembered.
Sala Arazzi: decorated with antique tapestries on the walls, ideal for princess weddings, larger than 200 square meters and directly connected to a small private courtyard outside, it can accommodate up to 150 guests . A room to make your day truly unforgettable.
Sala Reale: as the name implies, it is the largest and most sumptuous of our rooms, with aristocratic portraits on the walls, adorned with large windows overlooking the Royal Palace of Monza, with which it competes in splendour. Its almost 250 square meters make it perfect for receptions in style, unique events that everyone will remember.
A special event deserves a special organisation!
Weddings are big events, and to succeed, they must be perfectly organised, down to the smallest detail. The location is important, but to rely on an expert wedding planner is also extremely relevant.
Hotel de la Ville has always collaborated with the best professionals of Monza and Brianza to ensure that your wedding is perfect from start to finish, trying to minimise the inevitable stress from preparations that threatens to make the most important day seem like a marathon of tasks to complete.
Rely on our event planner, Mr. Bartolomeo Nardi, who will organise your unforgettable day down to the smallest detail. Our expertise is at your disposal and we will advise you with our best suppliers in terms of:
Floral decorations: to make the room you choose even more beautiful.
Wedding invitations: choose the graphic design that best suits your special day.
Photography and video services: to immortalise a unique day.
Musical entertainment for the reception, in case you would like it.
Car rental: to make a formidable entrance.
Wedding favours: filled with confetti to satisfy even the most demanding palates.
Wedding cake: the undisputed queen of the best pictures.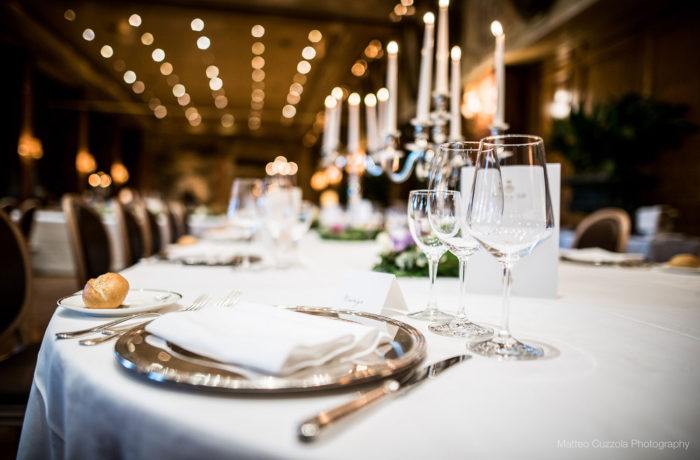 You can arrange the menu for your unforgettable day with chef Fabio Silva, flagship of the Derby Grill, our award-winning restaurant, famous throughout Lombardy. Your reception will be unique with the high cuisine inspired by the tradition of Brianza, with a hint of the new trends and characterised by an almost maniacal care in the choice of raw materials. All under the guidance of our careful and professional restaurant manager Roberto Brioschi and maitre d'hotel Anthony Renzulli.
If you are looking for the ideal location for your wedding in the beautiful setting of one of the most beautiful hotels in Brianza, feel free to get in contact with us. Our event planner will be glad to answer all your questions and to accompany you in your most beautiful day so that everything is perfect!
We were forgetting the most important thing: all the brides and grooms who choose Hotel de la Ville for their wedding will have the honour (subject to availability) to enjoy their wedding night in one of our deluxe rooms, as a final note for a fairy-tale day…