Comics lovers, come closer! The appointment is at Monza Royal Palace with a worldwide exhibition about Asian comics entitled "Mangasia: Wonderlands of Asian Comics", which will develop on the Second Floor until June 3rd, 2018. Here are all you need to know about Mangasia Monza, the great international exposition presented and curate by the London Barbican Centre di Londra in collaboration with The Next Exhibition.
After the success in Rome, the new location in Monza.
After its launch on February 21st 2018, Mangasia Monza will be open to visitors on the second floor of the Royal Palace until June 3rd. The preview at Palazzo delle Esposizioni in Rome was a success and the exhibition is now preparing to land in Monza and to welcome works by more than 300 artists and manga and cartoons authors, presenting a wide range of original tables and volumes from Asia.
Divided into six thematic routes and curated by the Barbican Center in London – the largest theater center in Europe – Mangasia Monza aims to illustrate the precursors of the art of comics (to be found in the Asian traditions of visual narrative arts) and to analyze how it has influenced other forms of expression (film, anime and live-action, music, videogames, fashion and contemporary art).
Exclusively for the Royal Villa of Monza, a special section is dedicated to Cosplay, with a selection of dresses worn by the most famous and iconic manga characters, including Sakura's original clothes by Cardcaptor Sakura, Gong by the eponymous manga or June May of Cloth Road. Next to tables and volumes, there will also be present digital facsimiles in high resolution and original objects, such as the desk of a mangaka, some kaavad (portable shrines used by the storytellers of Rajasthan), clothes inspired by manga and the fantastic Mechasobi, where you can admire a latest-generation interactive mecha (robot).
Mangasia Monza, when visiting.
This is going to be an appointment that comics lovers shouldn't miss. Mangasia Monza proposes itself as a journey that starts from the roots of oriental visual arts and ends up to the most recent digital innovations, focusing on key creators and characters, on magazines, graphic novels and multimedia publications.
The exhibition will be open to the public from 22nd February to 3rd June 2018 on the second floor of the Villa Reale in Monza. These opening hours:
Tuesday – Sunday from 10 am to 7 pm (closed on Monday)
Special opening: 1st and 2nd April, 25th April, 30th April, 1st May and 2nd June.
For information and bookings, you can call the number +39 039 5783427 (Monday-Friday, from 9 am to 6 pm; Saturday from 9 am to 1 pm) ora write an email to info@villarealedimonza.it
Hotel de la Ville Monza, in front of the Royal Palace
Your weekend in Monza can not fail to contemplate a visit to the Royal Palace, which can be seen from the windows of our rooms. In fact, Hotel de la Ville Monza lies in the most prestigious residential area of ​​the city, right in front of the entrance of the Savoy Palace. It is really worthwhile organizing a visit: the exhibition Mangasia: Wonderlands of Asian Comics develops on the second noble floor, but you can not give up peeking into the royal apartments and stroll through the design collections of the Triennial Museum at the Belvedere…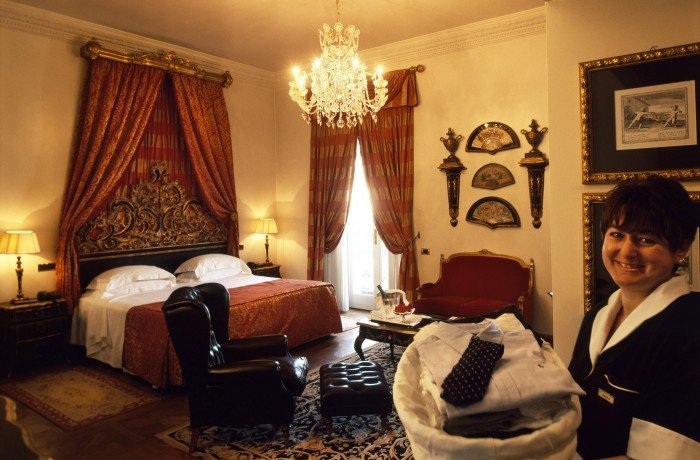 Hotel de la Ville is the perfect 4-star hotel if you are planning your leisure weekend in Brianza. Its 70 rooms are furnished with taste and elegance, where the details are the master, in every single shade. Add to this, the warmth of a staff that will make you feel part of a large family and not just a guest, pampered at 360 degrees. Last but not least, its gourmet restaurant, Derby Grill, is one of the most renowned addresses in the city where you can enjoy a classy and high quality cuisine.
What are you waiting to book your next stay in Monza? Hotel de la Ville is the perfect place for a total experience.