Conference centres are usually associated with incredibly modern, minimalistic structures which tend to be in the chaotic centre of some city. Hotel de la Ville, the 4-star luxury hotel in front of the Royal Villa of Monza, disproves this common belief, offering a cutting-edge conference centre, enclosed in a building which draws upon the inspiration of the ancient glories of the Royal Villa. It is an oasis of peace, far away from the hustle and bustle of the big city but a short distance away from the main airports and railway stations in Brianza.
Five meeting rooms for every need.
Our conference centre is composed of 5 rooms with different capacities to meet every need: from a meeting to a product presentation, from a workshop to a team building activity, from a refresher course to an important conference.
The meeting rooms have a size between 30 to 240 square metres and have been elegantly and richly designed and furnished. They are equipped with the most modern technology, provided by specialised companies.
The Sala Arazzi can host up to 150 guests and is ideal for workshops and conferences.
The Sala Affresco has an adjacent room, perfect for aperitifs and coffee breaks. It can host up to 60 people.
The Sala Regina is ideal for meetings, training courses and board meetings. It can be set up with a table that fits up to 14 guests.
The Sala Corona, with a maximum capacity of 40 people, is perfect for conferences and presentations.
Our crown jewel is the Sala Reale, both sumptuous and elegant. It is the largest meeting room and, thus, ideal for big events of up to 200 guests.
Every room enjoys natural lighting and is equipped with all kinds of amenities and the most modern technology. Some examples are:
Air conditioning
A speaker system
State-of-the-art screens and projectors
High-speed internet
Conference call system
In case necessary, you can also count on a hostess and interpreting service, apart from adapting the technical instrumentation to your particular needs.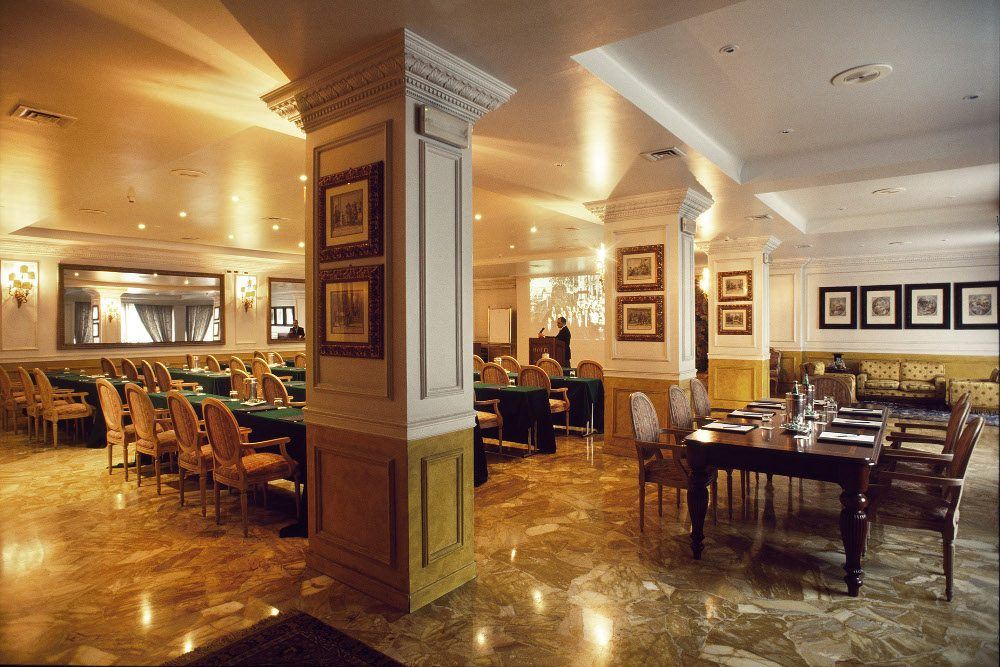 The customisable conference centre in the heart of Monza.
We have prepared conference packages to meet the needs of all the companies interested in using our premises. These can be used for one day or include an overnight stay.
The Day Meeting package includes booking one meeting room (equipped with an audio system and microphone, screen, flip chart, notepads and pencils, mineral water and sweets), a working lunch with a fixed menu including 3 dishes to be agreed on and 2 delicious coffee breaks.
For any accommodation requests in one of our 70 luxurious rooms, advantageous rates will be applied, including a rich breakfast buffet.
Hotel de la Ville is very well-known in Monza and beyond thanks to its Derby Grill, an award-winning restaurant where we can organise your working lunch or dinner. Together, we can agree on and organise every little detail. For aperitifs and cocktail parties, you can enjoy the American Bar and its terrace with a unique view of the Royal Villa of Monza.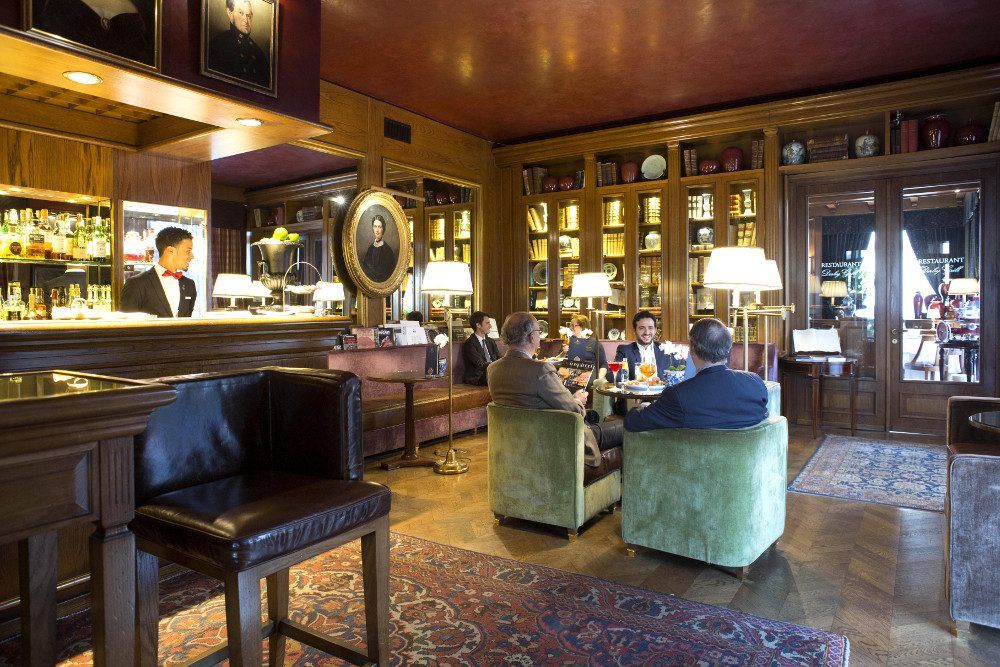 If you are looking for a conference centre in the heart of Monza (only 16 km away from Milan central station and 19 km from Milan Linate airport) which brings together the sumptuous greatness of a noble household, the most modern technology regarding communication and an extremely professional staff at your disposal, don't hesitate in asking us for further information. We would be glad to meet all your needs!